Beautiful sunny day today and with the sun I just want to ride a bike.
It was a bit of time I did not go to Santa Elisabetta so at 2pm o'clock I started running for the ride from Santa Elisabetta to Frasinetto back to Navetta and than home.
The ride was not long but I started at 400 mt slm and I arrived at 1500mt slm, all the ride is only 32 km but it is an hard road.
It was great to see the mountain so close to the sky and so cloudless and clear.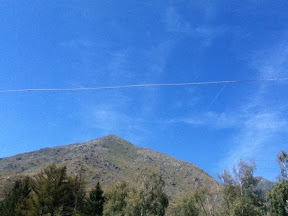 This morning I read Linus blog and he wrote about Pinarello's son he died in bike for an heart attack, he was only 40 years old.
I think I'll do a full check up in September, last week I made blood test they were fine.
Tonight we all went to La Societa to eat Pizza, I skipped the diet, too bad.
Now is time to send Ricky to bed, tomorrow we will go in Chamonix.
Ciao